Lothersdale Show Fell Race is one of the oldest fell races still in existence, being first run in 1847.  It is probably one of the few fell races left where both young and old run together.  The race starts in the road by  the show field and goes past the school until it turns sharp right up Sidegate Lane. A short distance up the lane, there is a track on the left.  Climb a fence by this track and bear right up the ridge to the summit of Town Edge. From the summit there is a steep descent back down to cross Sidegate Lane. Then a steep drop over a wall before returning through the fields to climb the wall and run back up the road, towards the show field.
Distance / Ascent 
1.5 miles / 400 ft
Registration
Lothersdaler Show Field
Entry is on the day. Seniors £2. Juniors £1.  Registration opens around 1:30 pm.
Juniors and Seniors run together. 
There is a cash prize for the first male and first female in the race and certificates for the first three in each age category.
There is also a prize for the first local.
The age is based on age on day.  Minimum age to enter is 10.
Race Start
The race starts at 2:30pm. 
Race Map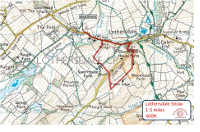 Download large scale copy of map
Past Results